REGISTER FOR 2022/23 TRYOUTS (FREE)
Register Today for 2022/23 tryouts for the opportunity to play on our club teams for the upcoming 2022/23 season.
We welcome ALL players to tryout for Chicago KICS Football Club.
The purpose of tryouts are to evaluate players and roster them on a club team that best fits their development.
The upcoming 2022/23 season club tryouts will take place over late spring and summer to begin in August 2022.
Returning players are not required to register for a tryout for the upcoming season.
Tryouts are held over the summer for the upcoming 2022/23 Season that starts in August (2022) for 8U-14U & HS Girls age groups (Club Programming Breakdown >) 
---
Tryout Result
For players that are offered spots on our club teams, you must confirm your roster spot within 72 hours of receiving our offer. In order to secure your roster position, a non-refundable payment of $200 must be paid prior to the 1st installment for the 2022/23 club fees.
All new players must complete the online tryout application for a player evaluation. Once you have submitted your application, please bring the receipt to your tryout.
---
There are two ways you can tryout:
Open and/or Supplementary Tryouts (Dates: May & June, 2022)
Open and/or supplementary tryouts are available to players of all ages, ability and gender and conducted on specific dates of the year according to league affiliated restrictions. Players that are offered spots will begin in August, 2022.
Practice Tryout
Practice tryouts are available to players in the current season and at any point of the year. However, rather being a set date and in a large group of other tryoutee's (Open/Supplementary Tryouts), players are invited to join a practice with one of our current club teams for a player evaluation. Practice tryouts are for players looking to play in the current competitive season. *Important Note: players must be non-registered members of any other US Youth Soccer or US Club Soccer organization in the current season.
| | | | | |
| --- | --- | --- | --- | --- |
| HS BOYS | 2008, 2007 | Oct 30 (SUNDAY) | 6:00-7:15PM | ROOSEVELT TURF (1235 S. MORGAN ST) |
| | 2006, 2005, 2004 | Oct 30 (SUNDAY) | 7:15-8:30PM | ROOSEVELT TURF (1235 S. MORGAN ST) |
| HS GIRLS | 2008, 2007, 2006, 2005, 2004 | Complete Tryout Application & Contact edgar@kicsfc.com | TBD | TBD |
| BOYS | 2016, 2015, 2014, 2013, 2012, 2011, 2010, 2009 | Complete Tryout Application & Contact edgar@kicsfc.com | N/A | TBD |
| GIRLS | 2016, 2015, 2014, 2013, 2012, 2011, 2010, 2009 | Complete Tryout Application & Contact edgar@kicsfc.com | TBD | TBD |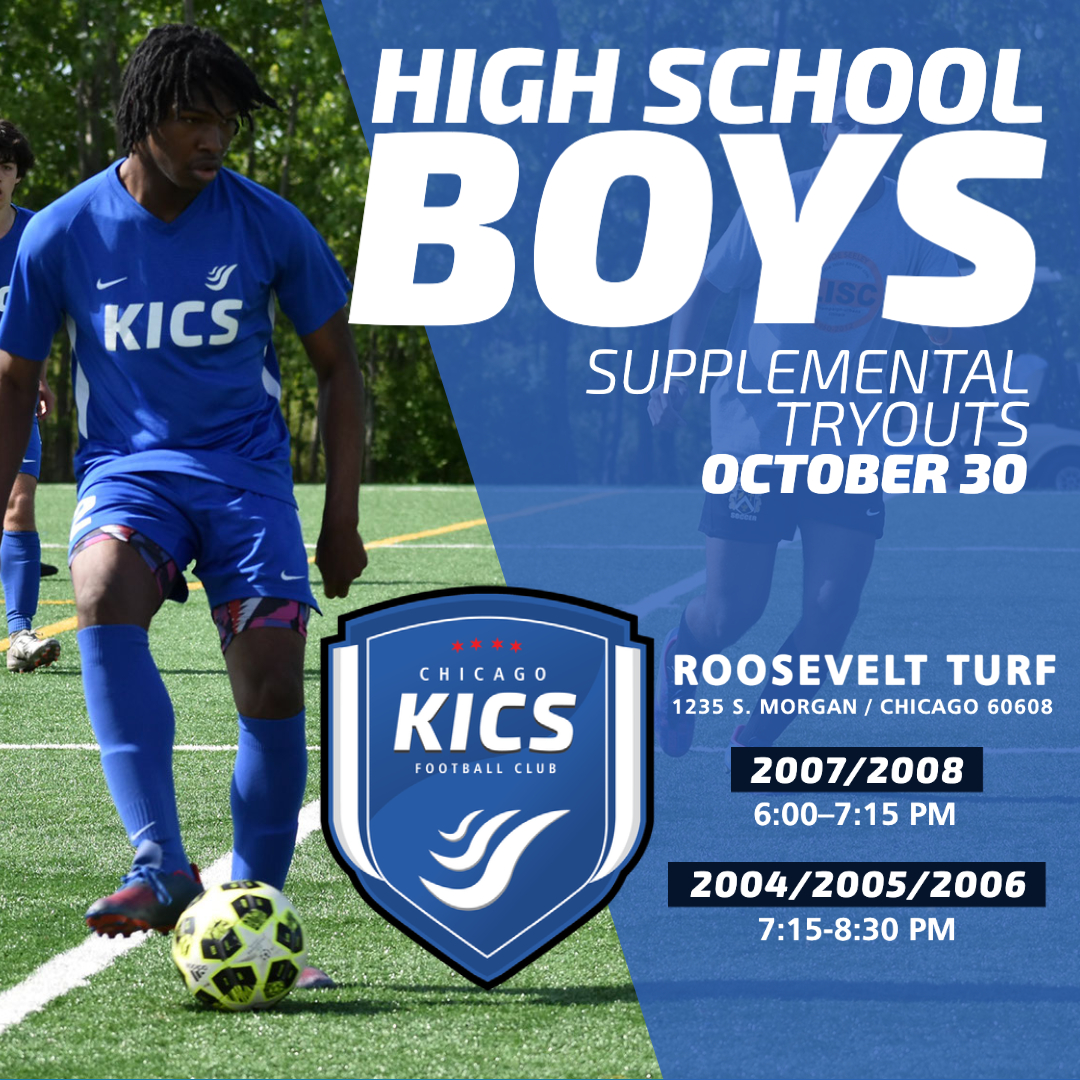 | | | | | |
| --- | --- | --- | --- | --- |
| HS BOYS | 2008, 2007, 2006, 2005, 2004 | Oct 30 (SUNDAY) | 5:30-7:00PM | EPCHS TURF (EVERGREEN PARK) |
| HS GIRLS | 2008, 2007, 2006, 2005, 2004 | Complete Tryout Application & Contact edgar@kicsfc.com | TBD | TBD |
| BOYS | 2016, 2015, 2014, 2013, 2012, 2011, 2010, 2009 | Complete Tryout Application & Contact edgar@kicsfc.com | N/A | TBD |
| GIRLS | 2016, 2015, 2014, 2013, 2012, 2011, 2010, 2009 | Complete Tryout Application & Contact edgar@kicsfc.com | TBD | TBD |