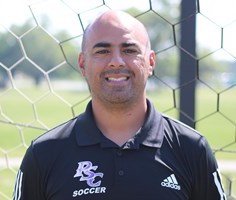 I have been involved in soccer as a player/coach/ref for more than 35 years.
As a Coach I currently hold my USSF D license. I have been coaching high school for 15 plus years now and currently the head coach of both boys and girls varsity programs at Evergreen Park Community High School. I am also currently the Head Coach of Women's Soccer at Prairie State College. Where I have been the Head Coach since 2015.
As a player I was all state team selection. I was also part of the Indiana Olympic Development Program. I went on to play soccer at Triton College and earned All-American 1st team honors. I continue to play in competitive soccer leagues across the Chicago land area.
I live in Chicago's Beverly neighborhood with my wife and 3 beautiful children.
Through my experience of soccer and experience as a classroom teacher I like to couple my two passions and provide my players with a nurturing and safe environment where they can grow as people and soccer players.